WELCOME TO

CLASS 2's

WEBPAGE!
Spring to Summer

Above -

o

ur representatives on the School Council
*

Please scroll down to see more photos*
Class teacher: Mrs. Percival
Teaching assistants: Mrs Kelsall, Mrs Biddle
PE: Wednesday and Thursday afternoon
Class 2 Curriculum Summary Summer 2018
This term the children will have lots of fun studying 'Our Local Area'. We will be 'out and about' exploring our area, including visits to Chesham Woods, the Lido, the park and the shops. This is also a very busy term as we shall be preparing for the Year 2 SATs which take place in May and for the Year 1 Phonics test which takes place in June.
Science
Identifying wild plants in the local area

Visiting Chesham woods, naming types of trees

Naming parts of a plant/tree

Understanding why plants are important
Geography
Knowing own address

Finding own address/school on a map

Identifying places in the locality

Planning a route, mapping

Likes/dislikes in the area
Personal Social and Health Education (PSHE)
Caring for our local environment

Recognising what we are good at

Knowing that we learn in different ways

Setting goals
Religious Education (RE)
Studying the Jewish and Christian faiths

The Story of Creation

The Story of Moses and its importance to Jews

The story of Purim
PE
Games – Developing ball skills including throwing and catching and simple competitive games

Gymnastics – Exploring ways to move on the floor and using apparatus. Developing rolling techniques.
Art/DT
Observational drawings of plants in the environment

Studying the work of Georgia O'Keefe

Developing painting techniques
ICT
Using 2animate to make a moving picture

Using text and multimedia
Music
Singing songs Linked to 'Jack and the Beanstalk'

Exploring rhythm, beat, tempo and volume

Playing instruments to accompany songs
Maths
Counting on and back in ones, two, threes, fives and tens from different starting numbers

Understanding the value of a digit e.g. in 14 the 1 has a value of 10

Addition strategies e.g counting on from the biggest number(Y1), adding tens then ones (Y2)

Subtraction – finding the difference by counting on (Y1) subtracting tens then ones (Y2)

Understanding the relationship between addition and subtraction

Solving missing number problems

Solving multiplication and division problems

Telling the time to the quarter hour(Y1) 5 minute interval (Y2)

Measuring – reading a scale

Recognising all coins, totalling coins (Y1) giving change (Y2)

Finding ½ and ¼ of a number of objects (y1) finding ¾ 1/3 2/3 of a shape or number (Y2)

Describing turns – ¼ ½ ¾ turns clockwise and anticlockwise, right angle turns (Y2)

Identifying vertical symmetry
English
Reading 'recounts' and identifying features

Writing recounts of our holidays, class trip and events in school.

Studying the story of 'Jack and the Beanstalk'

Inferring meaning when reading; answering questions about what we read.

Phonics- different ways of representing vowel sounds

Handwriting – forming all letters correctly including capital letters(Y1). Joining letters (Y2)

Grammar & Punctuation –Using the past tense correctly. Spelling words ending with ing, er and est. Exploring time connectives used in stories and recounts. Using conjunctions 'and' 'so' 'but' 'because' 'if' and 'that' to extend sentences. Identifying and using adverbs.
Dates for your diary for the remainder of this term;-
Tuesday 10th July: Reports home to parents.
Monday - Wednesday 16th - 18th July: Parent's Evenings.
Tuesday 17th July: Class move up day.
Friday 20th July: Leavers' Assembly, 9.15am; End of term, 2.30pm.
I hope you find this information useful, please come and speak to me if you need any help or further advice.
Mrs Percival
Below - our terrific artwork in the style of Tanzanian artist Edward Tinga Tinga (1932-1972)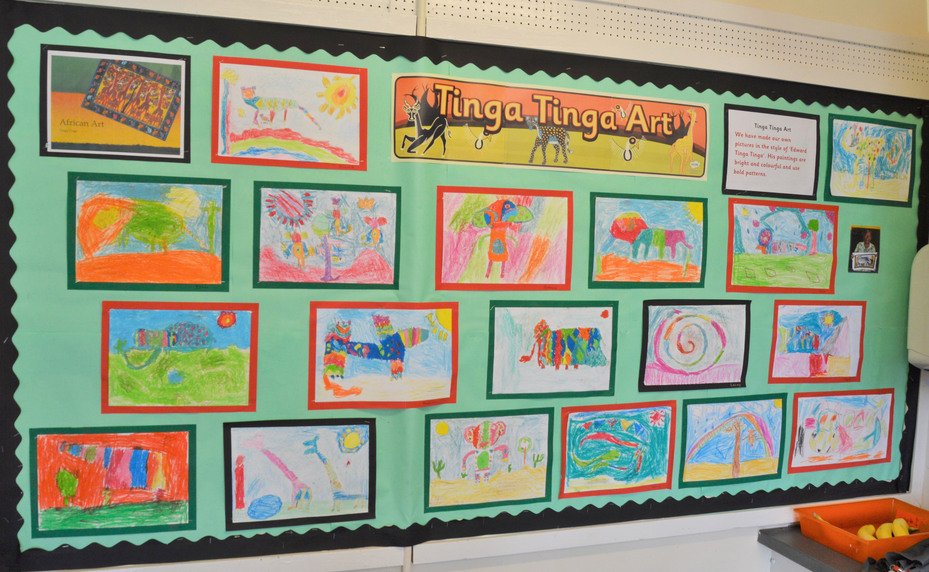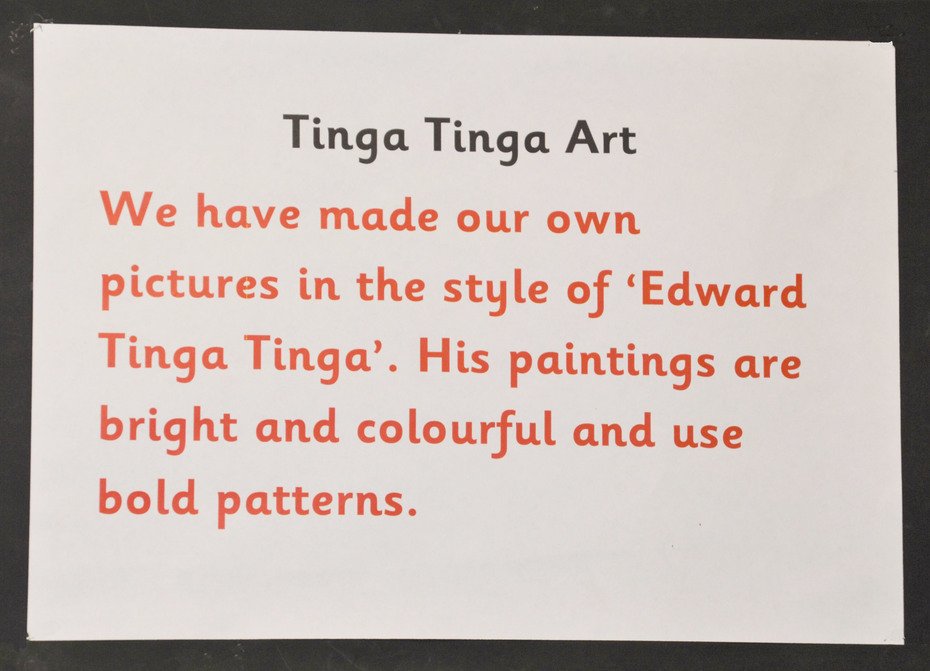 Below our fantastic hall display of artwork inspired by American artist Georgia O'Keeffe (1887-1986)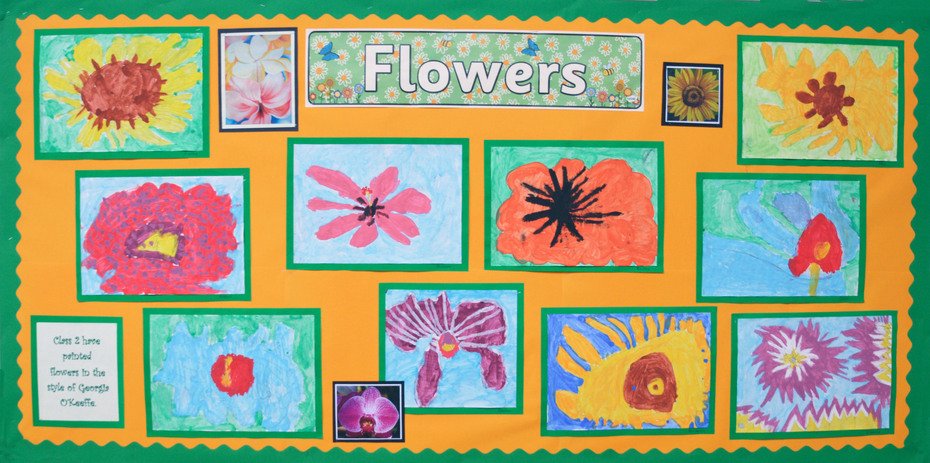 Below - more of our 'Flowers' in the corridor!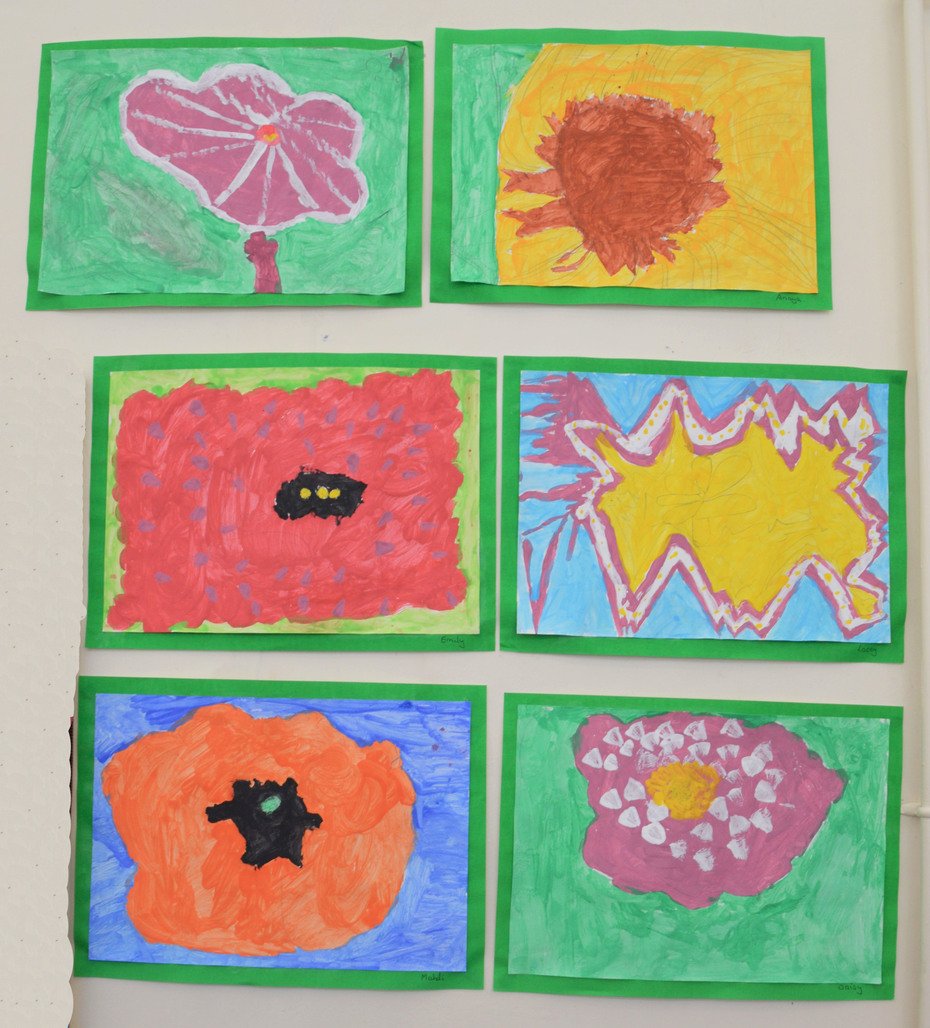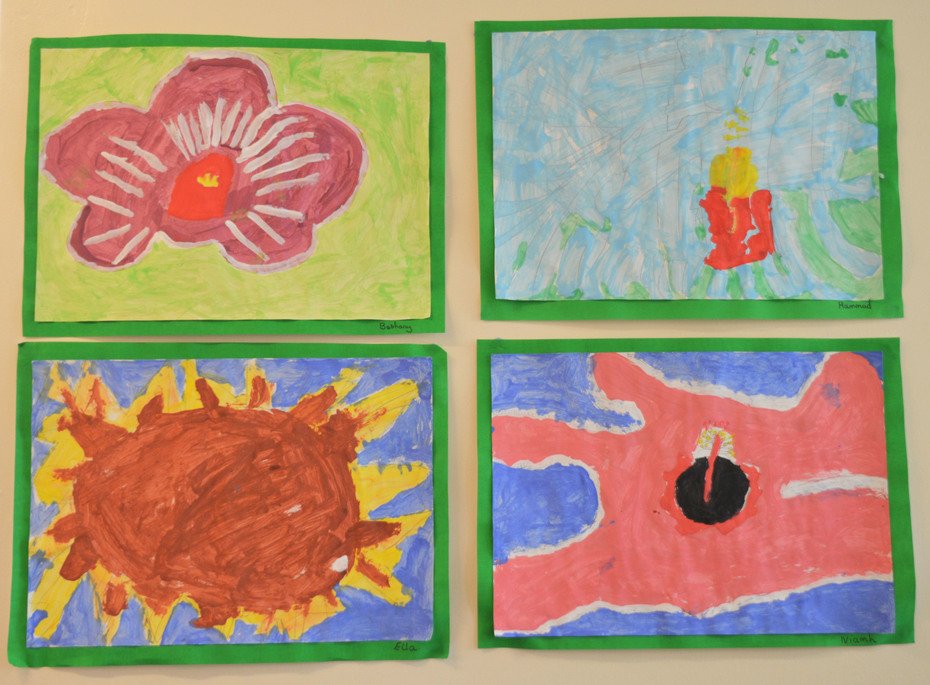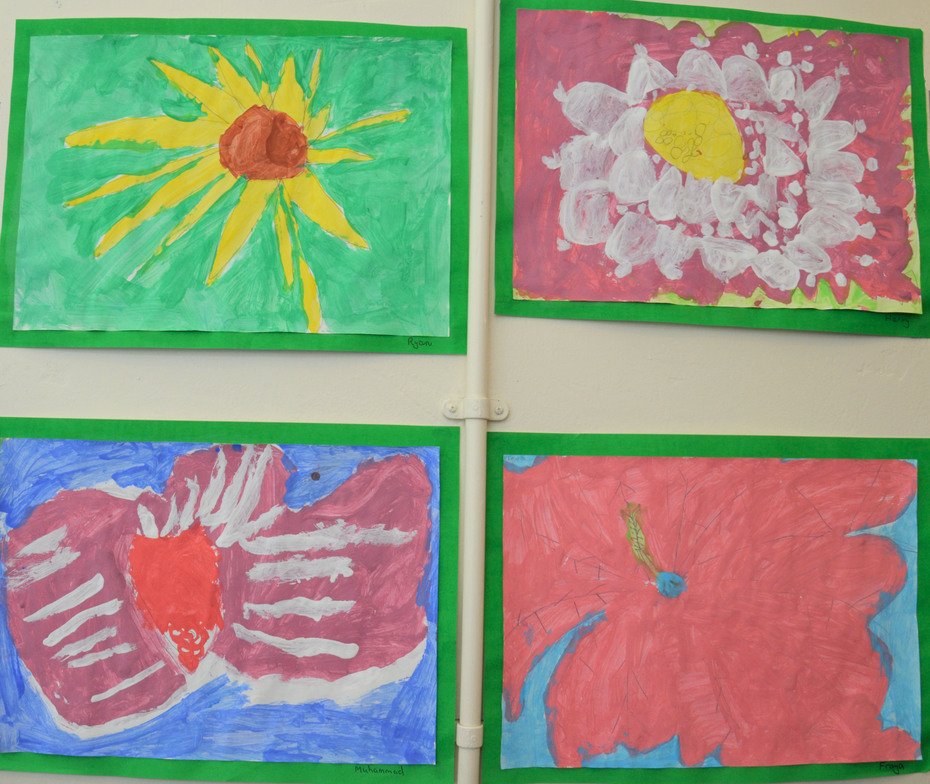 Below - a few photos of our displays from the Spring Term