WELCOME TO

CLASS 2's

WEBPAGE!
Winter to Spring

Above -

o

ur School Councillors
*

Please scroll down to see more photos*
Class teacher: Mrs. Percival
Teaching assistants: Mrs Kelsall, Mrs Biddle
PE: Wednesday and Thursday afternoon
Class 2 Curriculum Summary Spring 2 2018
This term our main topic will be 'Hot Places'. The children will be studying Africa, finding out about its geographical features and the animals that live there; the children are very excited about our trip to Blackpool Zoo!
Science
Identifying the range of animals that live in Africa

Grouping animals

Identifying mammals, birds, fish, amphibians, reptiles

Sorting African animals into herbivores and carnivores
Geography
Locating Africa on the globe/maps

Identifying physical and human features

Comparing an African town with Bury
Personal Social and Health Education (PSHE)
Recognising bullying

Identifying how someone who is being bullied feels

Knowing who you can talk to if you are unhappy
Religious Education (RE)
Sunday as a special day for Christians

How Christians worship

The Easter story and its significance for Christians
PE
Art/DT
Studying the work Edward Tinga Tinga

Creating pictures in the style of 'Tinga Tinga'

Designing and making a puppet of an African animal.
ICT
Using 2go to program simple directions

Using text and multimedia to write postcards
Music
Singing simple songs from memory

Exploring dynamics and tempo

Playing instruments to the beat and rhythm
Maths
Counting on and back in ones, two, threes, fives and tens, completing number sequences

Estimating numbers on a number line

Learning number bonds and using facts to solve missing number problems

Solving multiplication and division problems using pictures and objects

Understanding units of time – seconds, minutes, hours, days, months

Identifying the standard units used to measure length, mass and capacity

Describing 3D shapes using 'vertices' 'edges' 'faces'

Describing turns – ¼ ½ ¾, right angle turns, clockwise and anticlockwise
English
Reading and writing stories with patterned language related to our topic

Discussing stories read, completing comprehension style questions (Year 2)

Writing speech bubbles, post – cards, descriptions and riddles linked to stories read.

Phonics- different ways of representing vowel sounds e.g. 'ai' 'ay' 'a-e' 'ae' (Year 1)

Handwriting – forming all letters correctly, letters which hang under the line, forming numerals , joining letters (Year2)

Grammar & Punctuation – Using full stops, capital letters, question marks and exclamation marks.

Use of adjectives to describe.

Using apostrophes for belonging e.g. The dog's bone and commas in lists (Year 2)
I hope you find this information useful, please come and speak to me if you need any help or further advice.
Thanking you for your support
Mrs Percival
Below - our terrific 'Mythical Beasts' hall display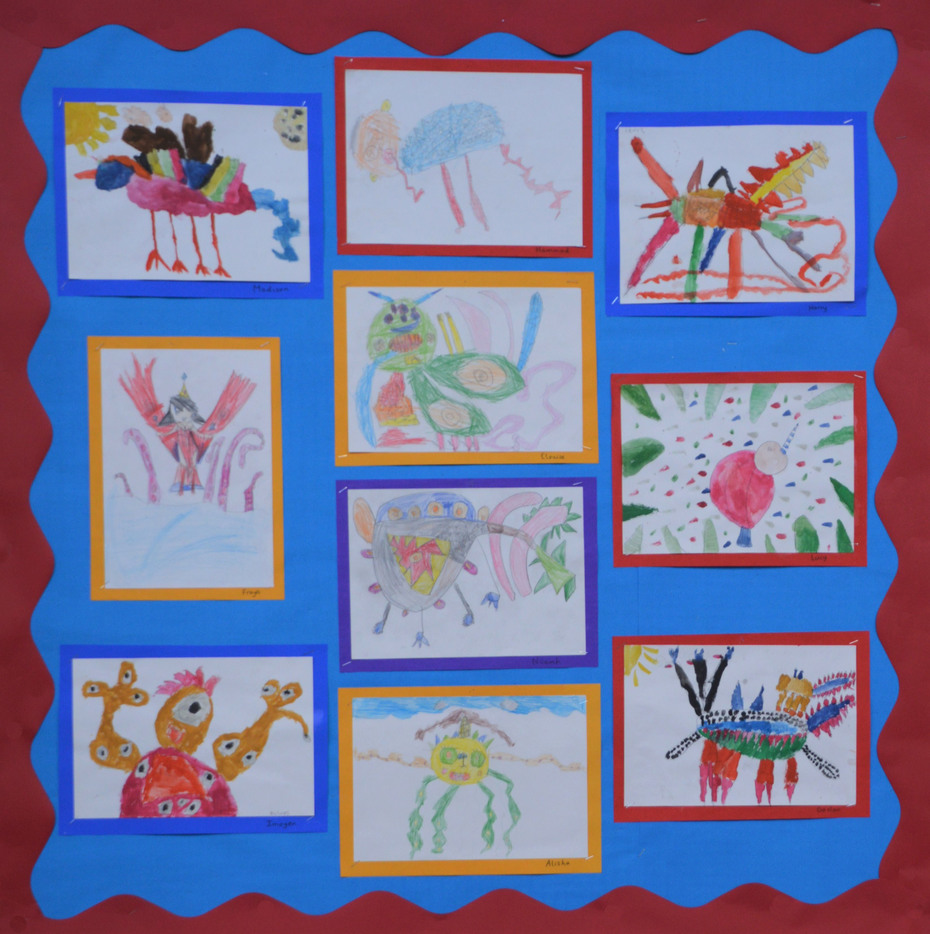 Below - more of our Mythical Beasts outside our classroom!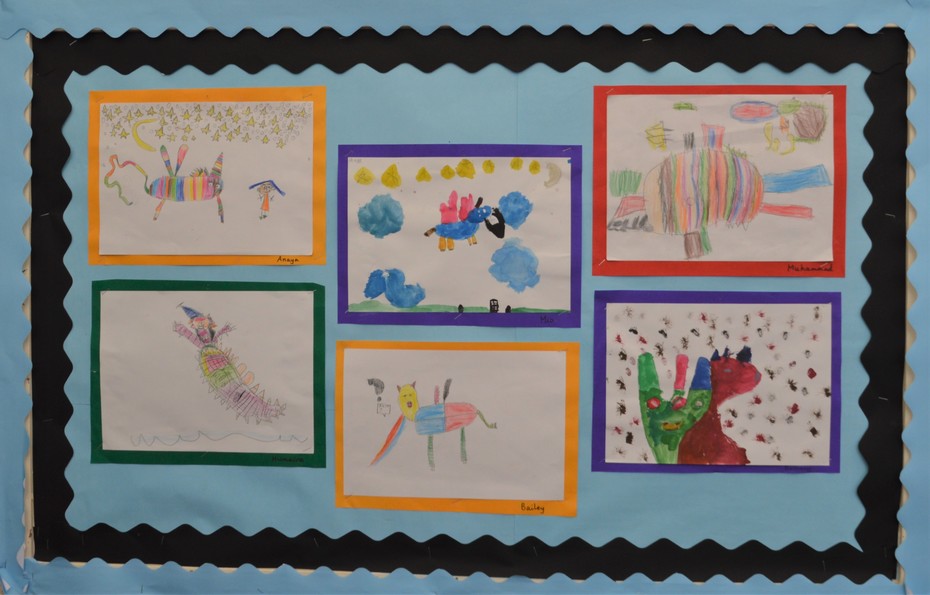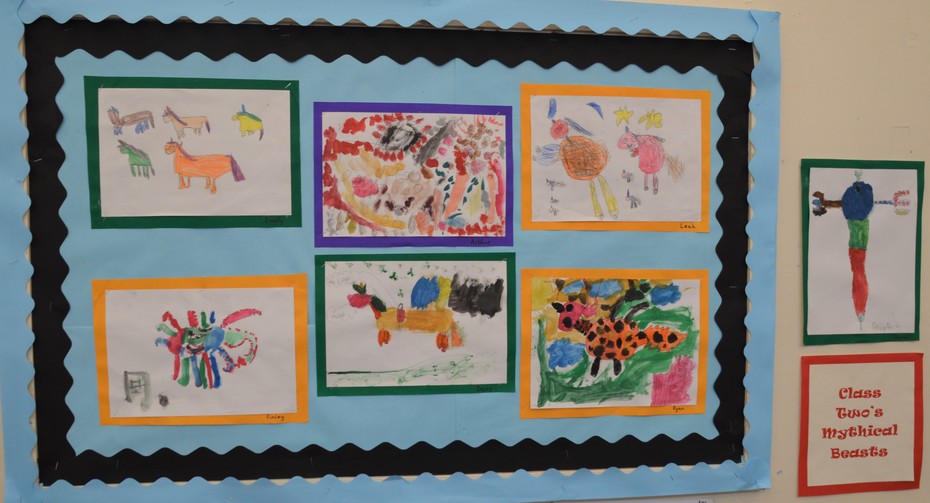 Below - A few photos from last term starting with a lunchtime visitor outside our classroom!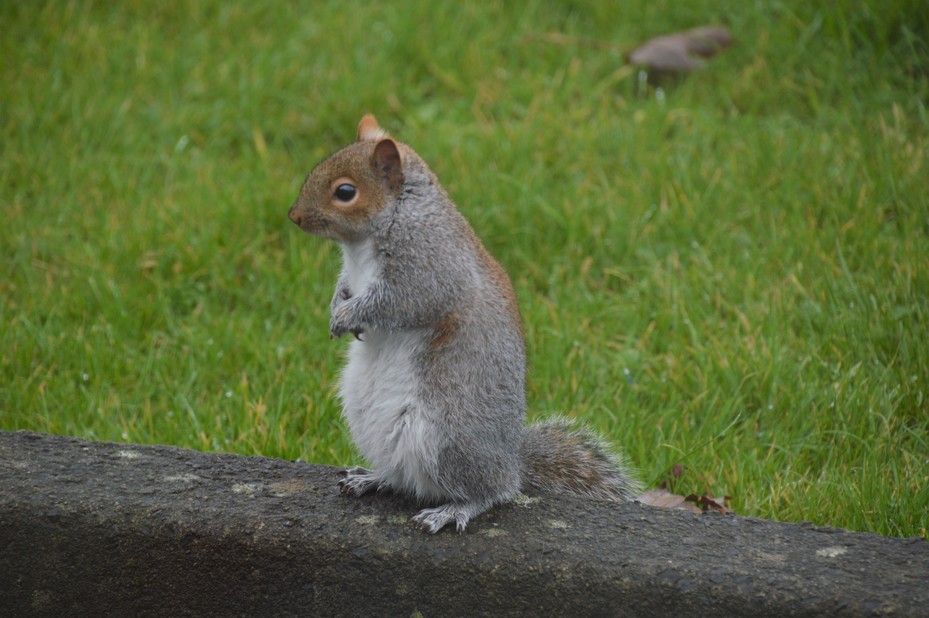 Below - our fantastic 'Rainy Days' hall display (photo taken by Daisy, Class 9)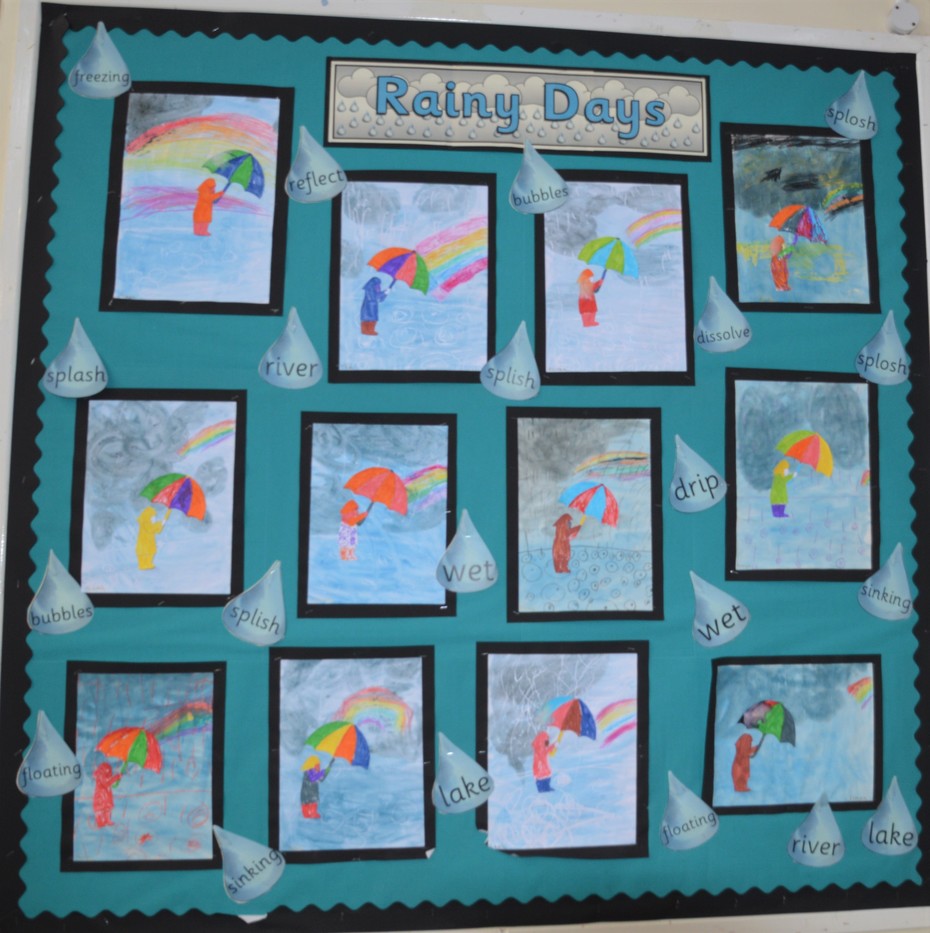 Below - our terrific classroom display of photographs & artwork in the style of Andy Warhol