Welcome to the 2017 Autumn Term!
Important Days:-
Thursday - P.E. Please ensure your child has the correct kit. In fine weather we may go outside for this session, so trainers are advisable too.
Friday - Games Please ensure your child has the correct kit along with suitable trainers.
Homework - Friday is the day homework will be set related to classwork from the week or a longer project related to the cross-curricular topic. Spellings will also be given and checked on a weekly basis.
Cross-Curricular Topic - 'H2O - Friend or Foe?'
Numeracy -
Place Value
Multiply/Divide by 10/100/100 whole and decimal numbers
Rounding to nearest 10/100/1000/10,000
Identifying/Practicing efficient strategies to mentally use all 4 operations
Identifying/Practicing written efficient strategies to use all 4 operations
Relationship between decimal/fraction/ percentage
Literacy -
"This Morning I Met a Whale" by Michael Morpurgo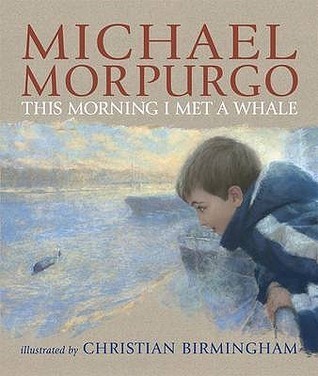 Diary/Writing in the role of a character from our class book
Letter Writing
Persuasive Writing
Non-chronological report
Report
Reciting
Poetry
Debates
Comprehension
Science -
'Properties of Everyday Materials'
Explore/Compare the properties of a broad range of materials.
Classify materials based on evidence (hardness, solubility, conductivity, electrical, thermal)
Understand solution and how to reverse the process.
Use knowledge of solids, liquids and gases to separate mixtures.
Experiment with reversible/ irreversible changes.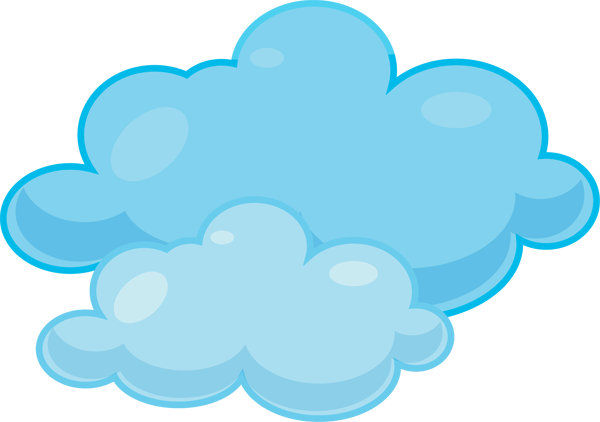 Geography -
'Rivers'
Identify/Develop Knowledge/ Understand features of a river.
Processes of a river.
Effect of processes of a river on landscape/humans
Identify/Develop knowledge of rivers in U.K and world.
Importance of rivers related to the Water Cycle and the environment.
River Safety
Map skills/identifying water sources.
ICT -
Develop speed, accuracy when typing
Experiment/Develop/Practice skills related to fonts/sizes/colours.
Develop/Practice text/image/sound skills
To develop PowerPoints.
Select/Identify images to import into Powerpoints.
Use hyperlinks within Powerpoints.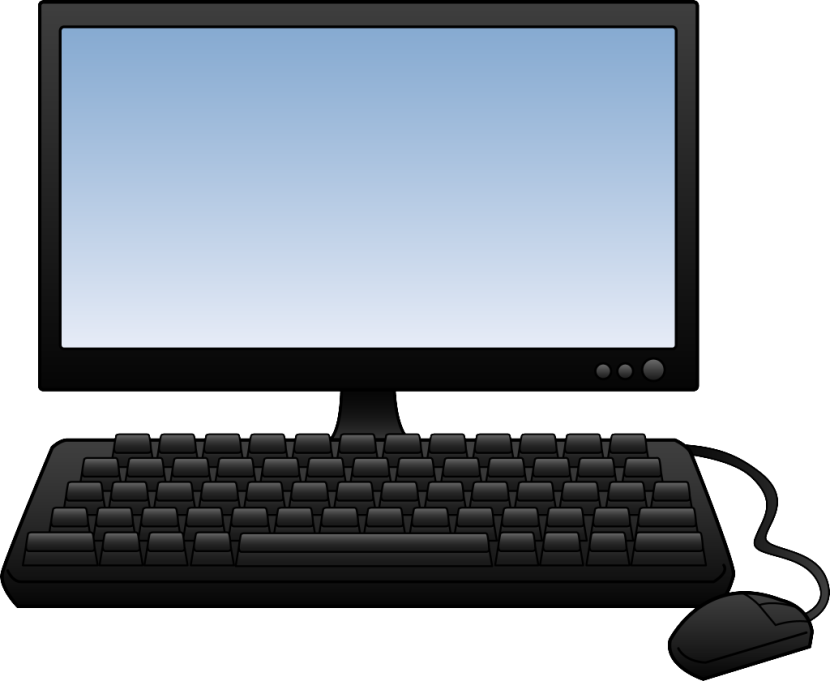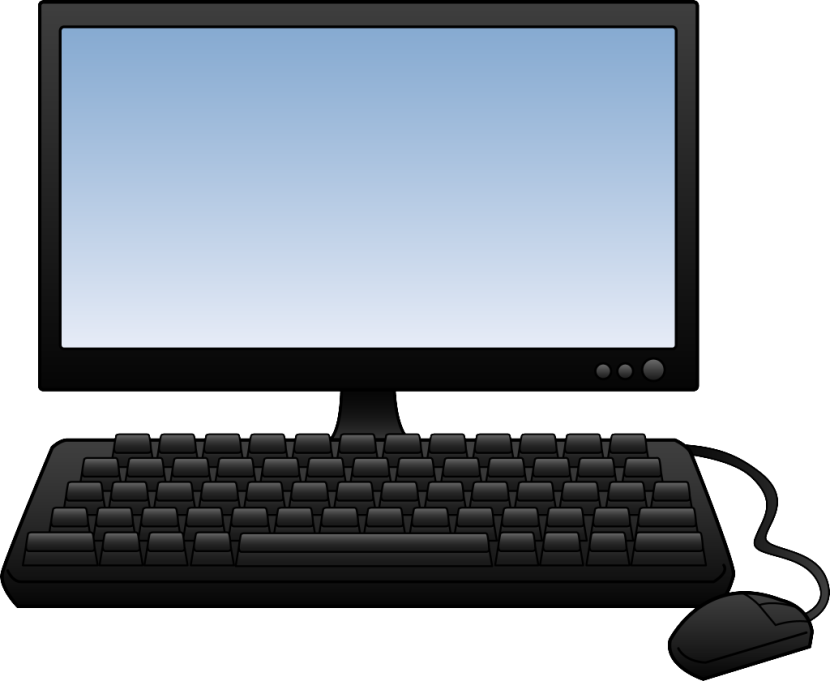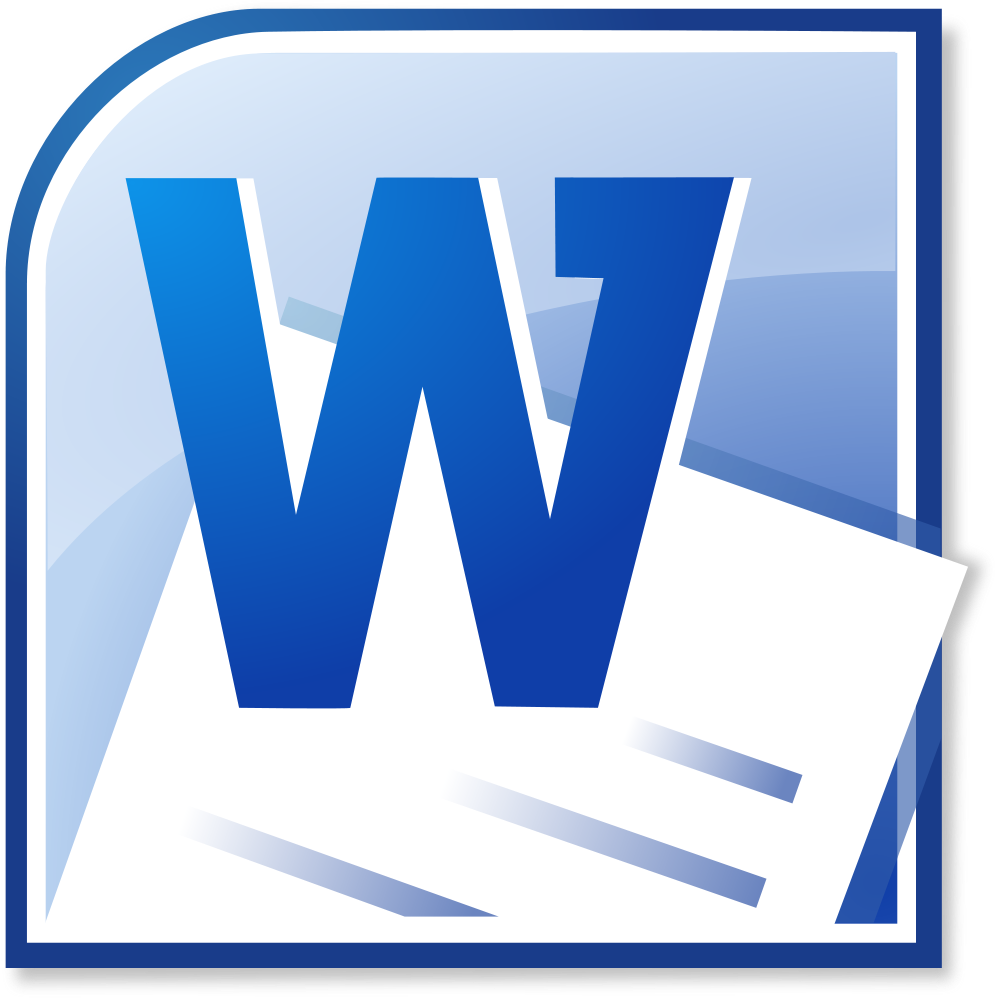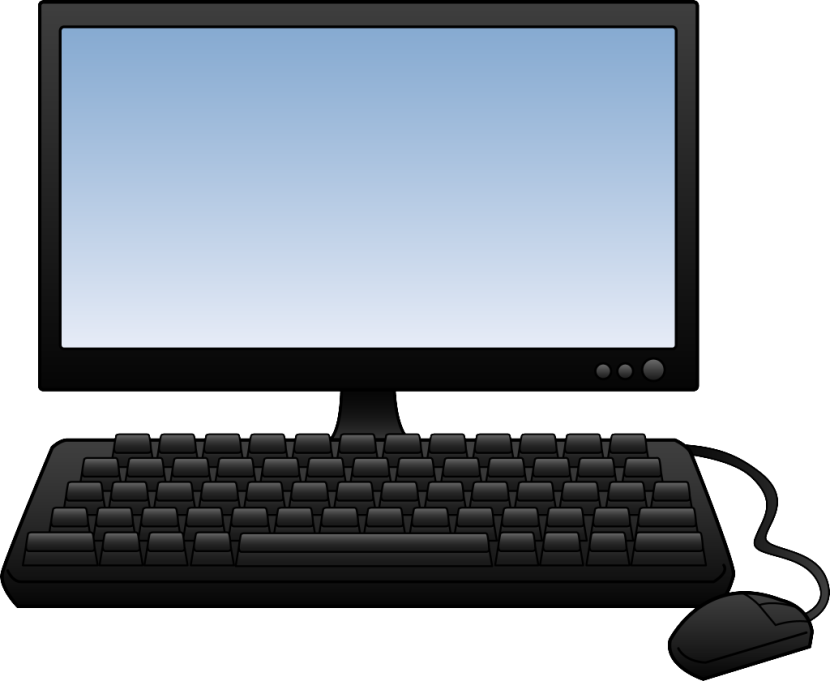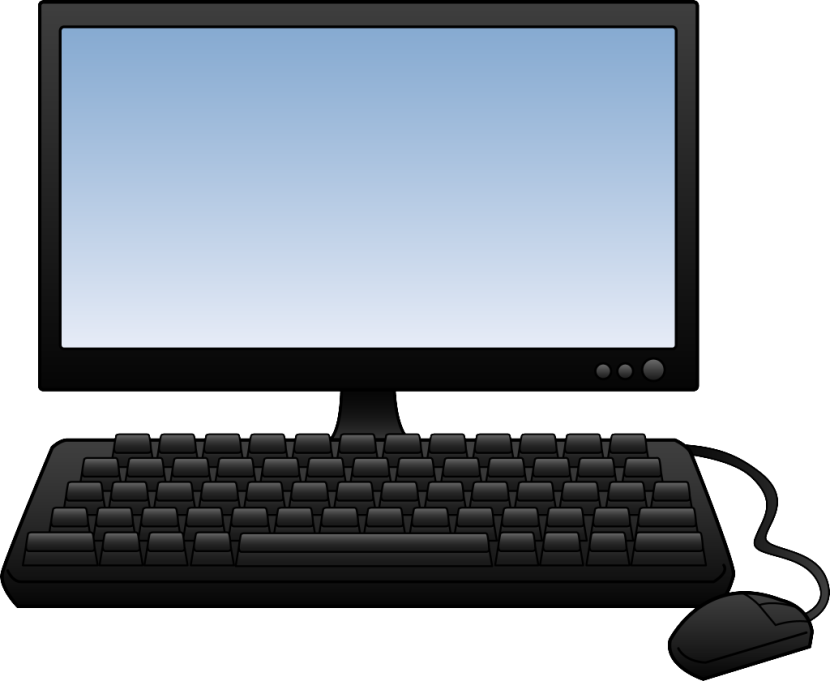 Art -
Developing sketching skills
Experimentation of colour mixing
Developing skill in using water-colour paints.
Games -
Develop/Practice/ refine ability to balance on patches and points.
Develop/Practice/ refine ability to balance on apparatus
Explore/Develop/Practice/Refine sequences.
Relate work to rivers and its features.
Explore/Develop/ Practice/refine skills within football/hockey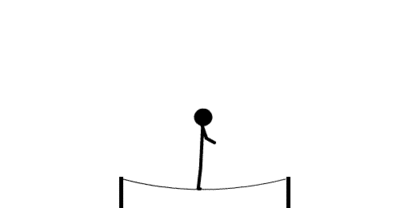 Music -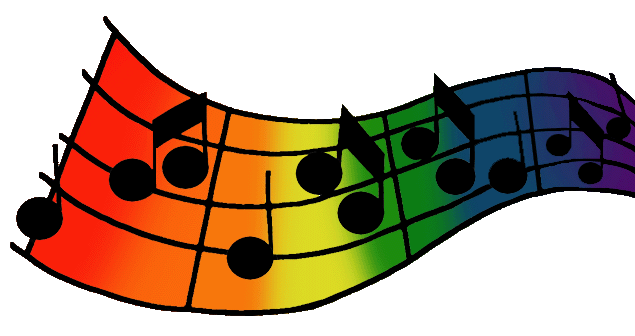 Mrs Gorton will teach music to class 7.
Dates for your diary for this term:-
Tuesday 12th December: Pantomime trip to see 'Sleeping Beauty' at Middleton Arena.
Wednesday 13th December: KS2 Production, 9.15am; Christmas Dinner.
Thursday 14th December: KS2 Production, 2pm.
Tuesday 19th December: Classes 7, 8 & 9 party!
Wednesday 22nd December: End of term, 2.30pm.
Below - our brilliant 'Letters From A Bottlenose Whale' classroom display of creative writing using our I.T. skills;-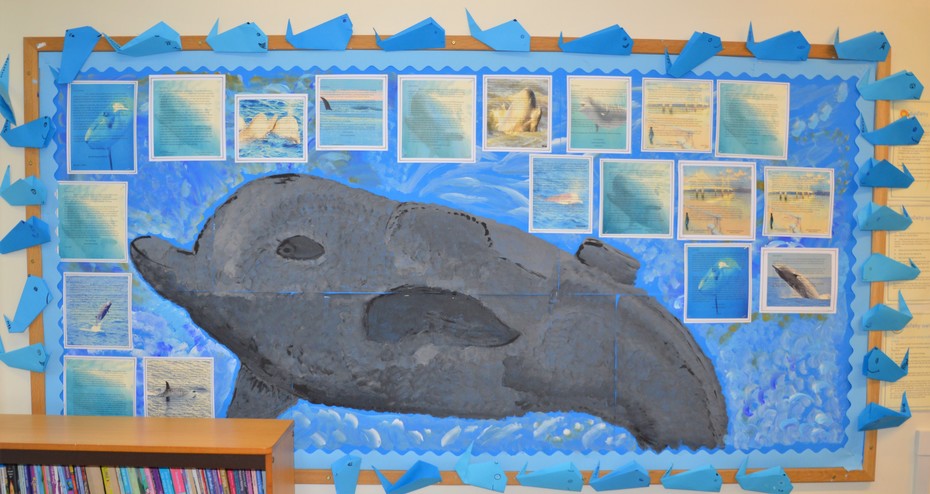 Below - our fantastic hall display of artwork & origami inspired by Claude Monet's 'The Water-Lily Pond';-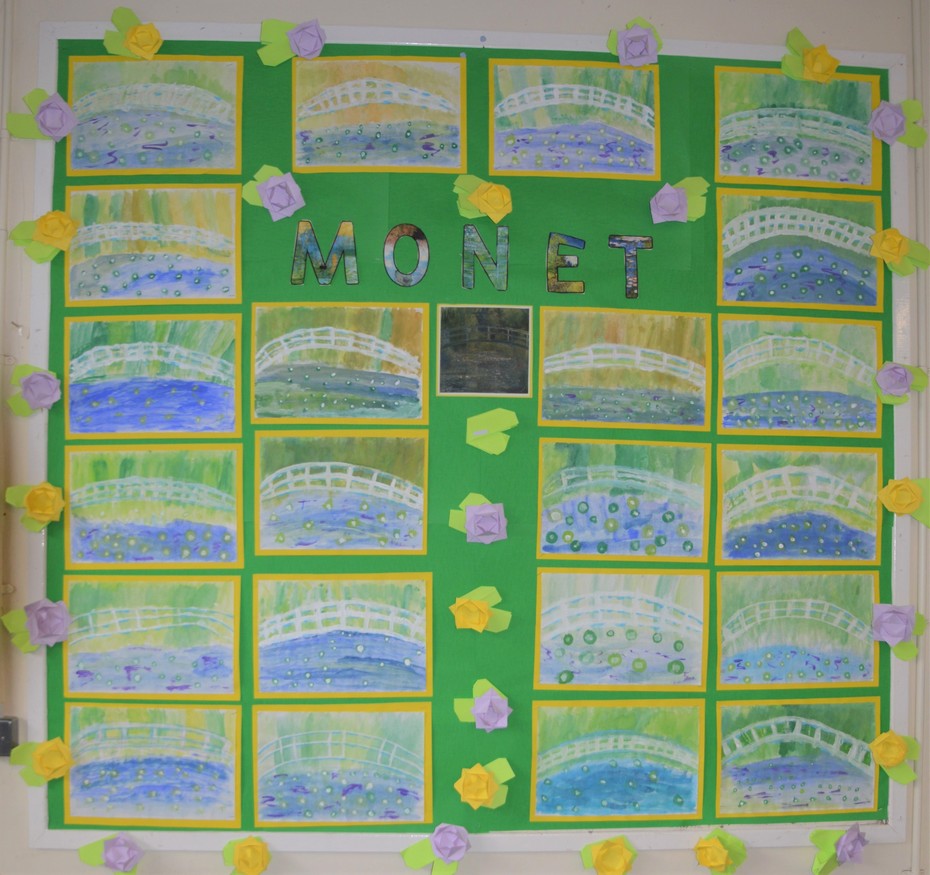 Below - our terrific classroom display of 'Rivers' poetry & artwork inspired by Japanese artist Katsushika Hokusai's 'The Great Wave Off Kanagawa' (photo by Sabia); more of our fantastic artwork in the corridor!;-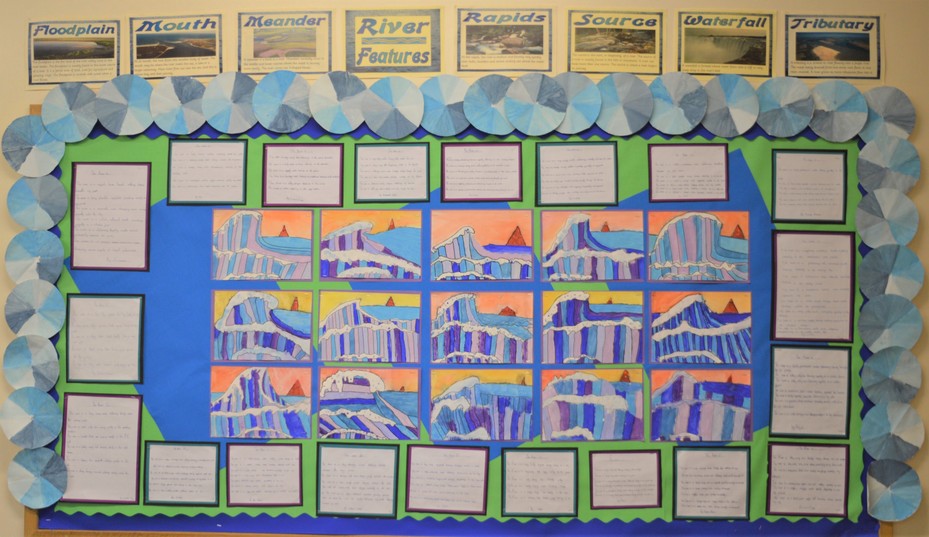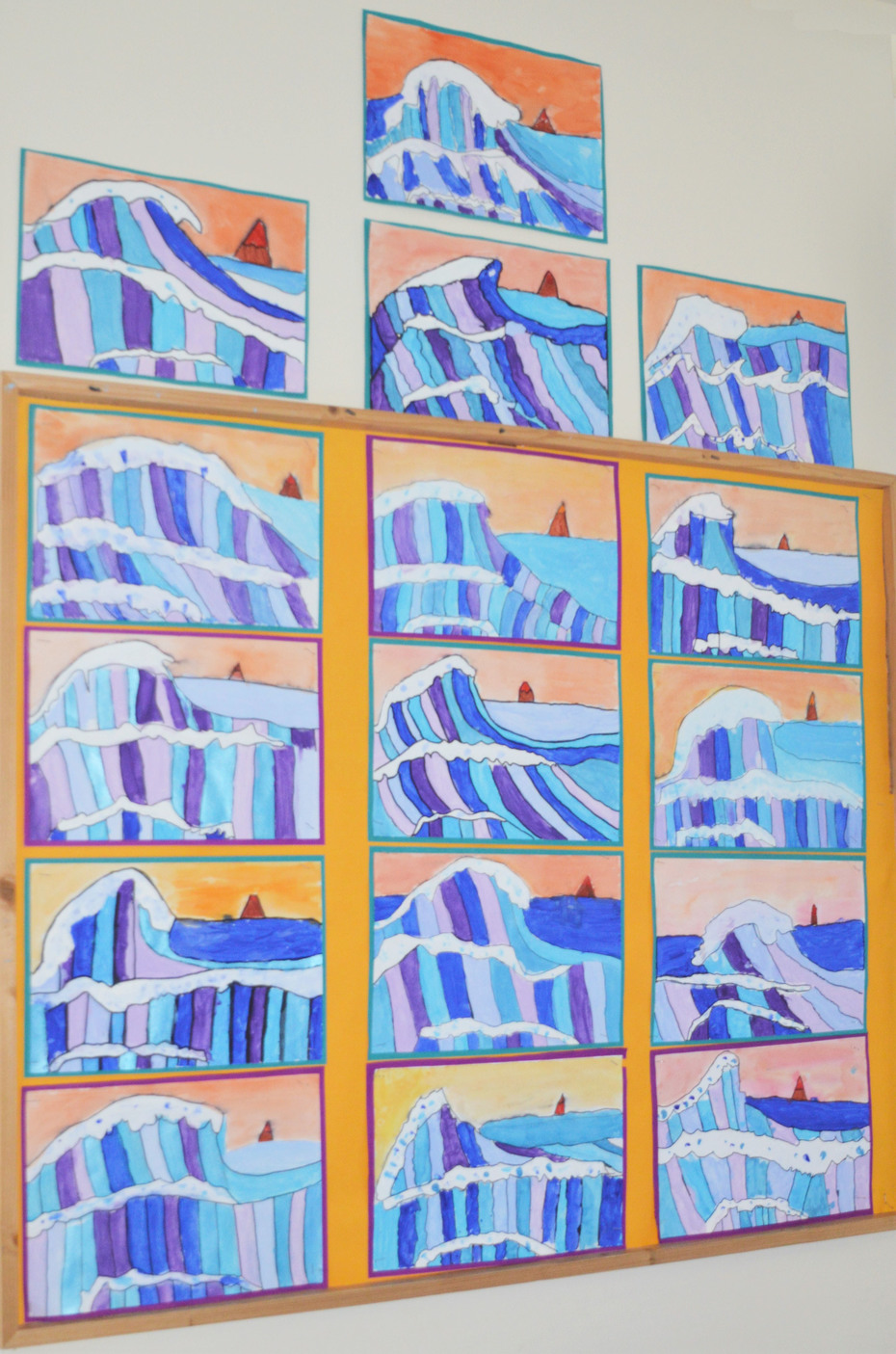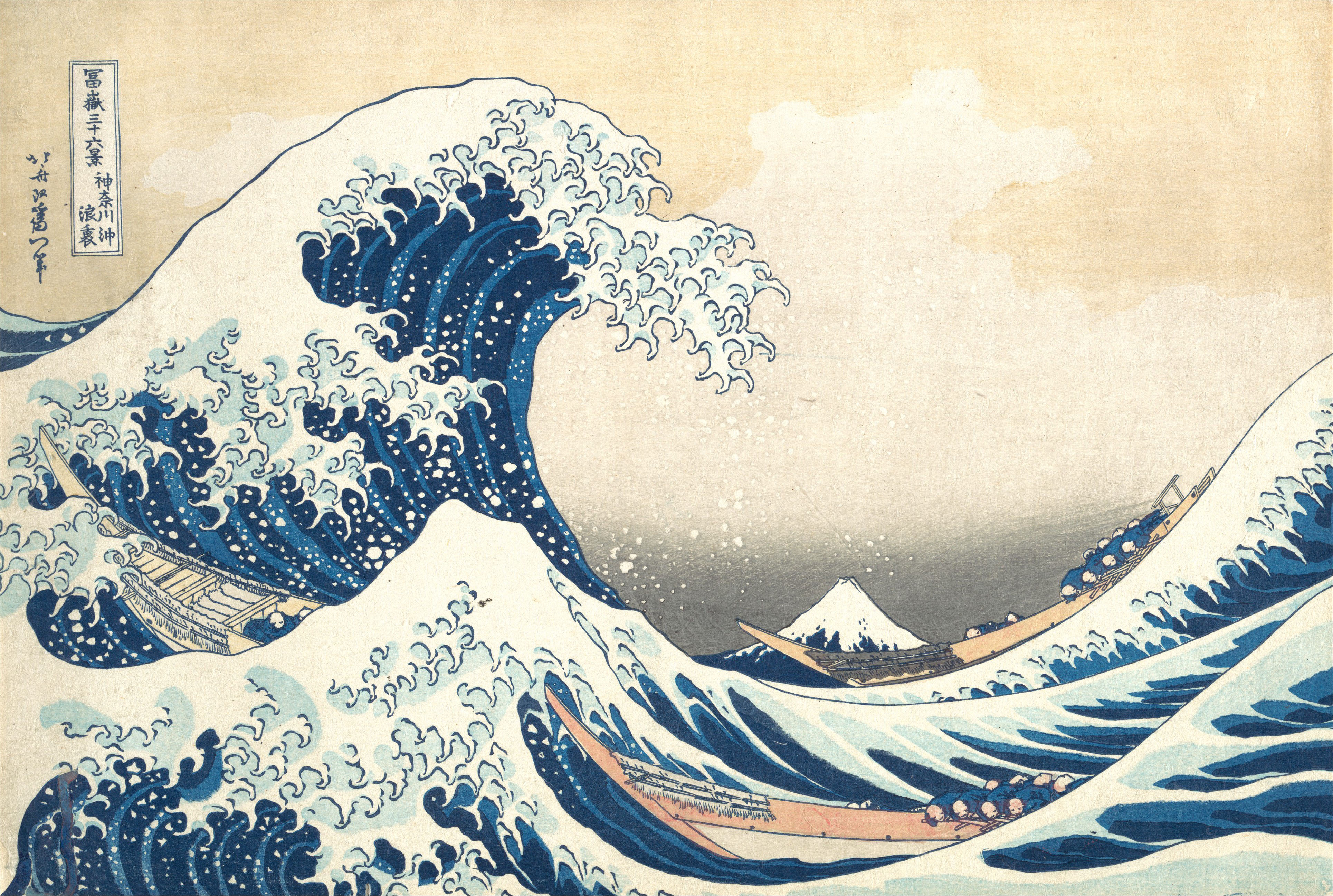 <<<'The Great Wave Off Kanagawa' by Katsushika Hokusai 葛飾 北斎 (1760-1849)
Below - Wednesday 4th October - using the laptops to create a cartoon strip all about 'The Water Cycle';-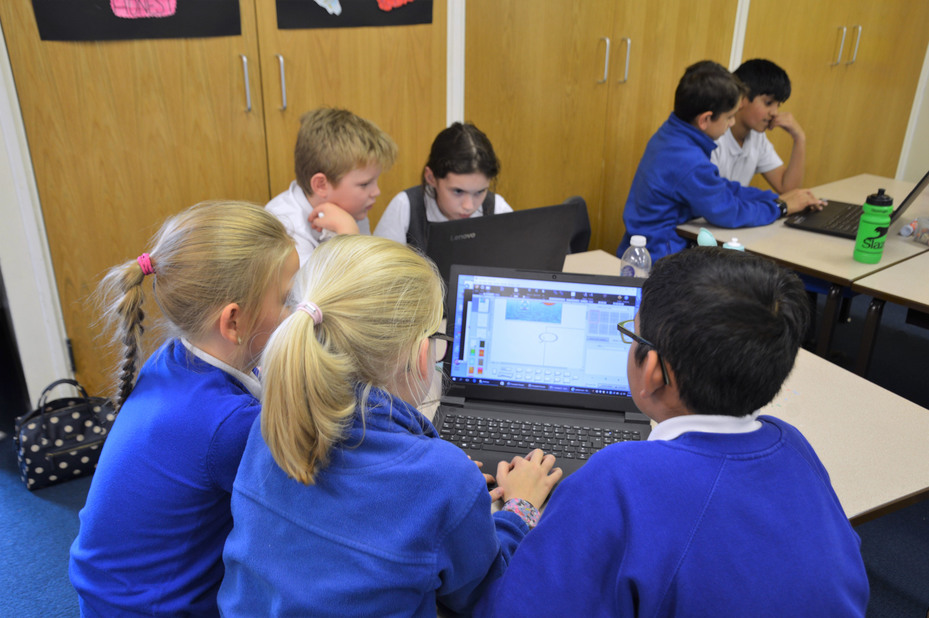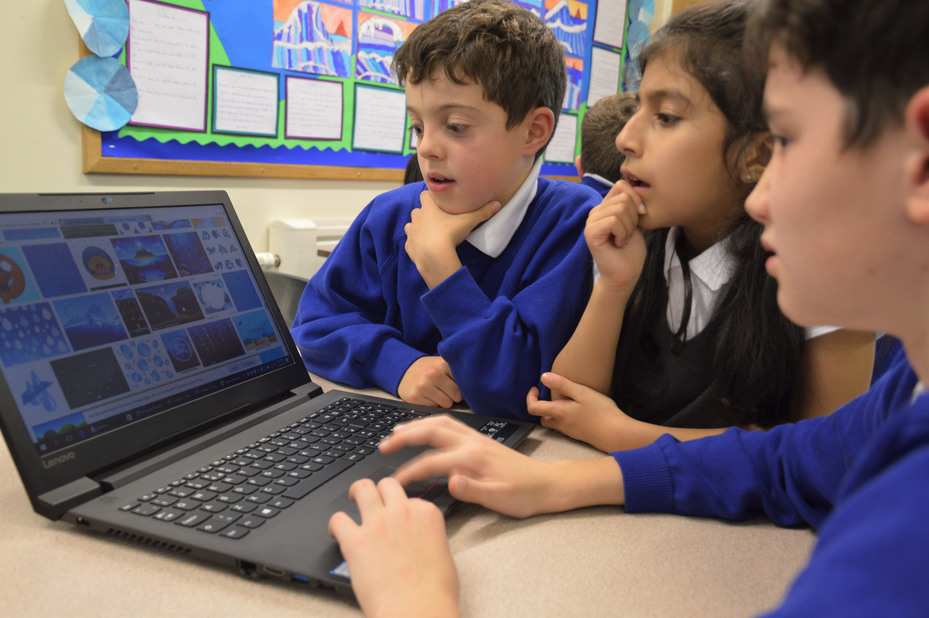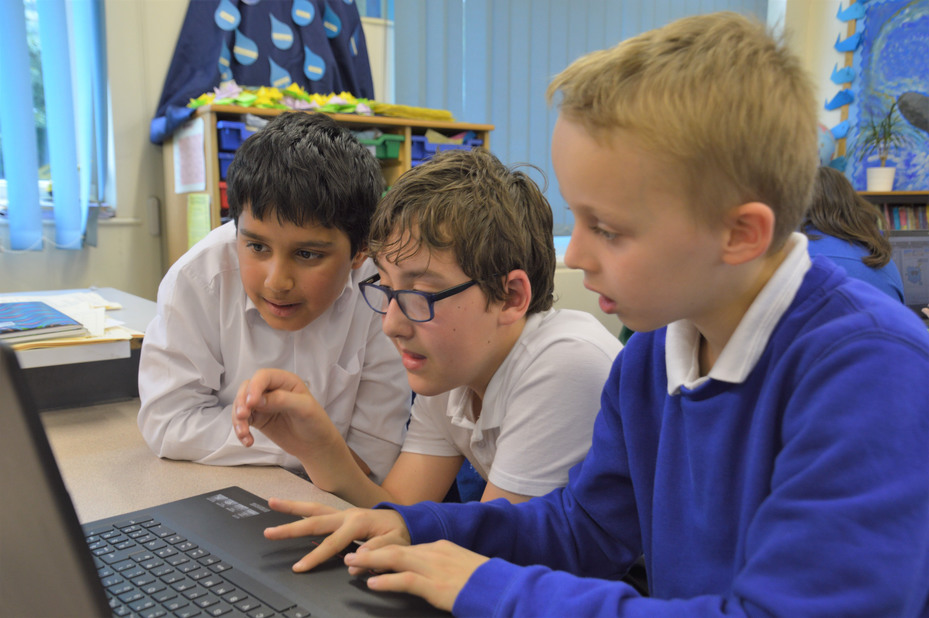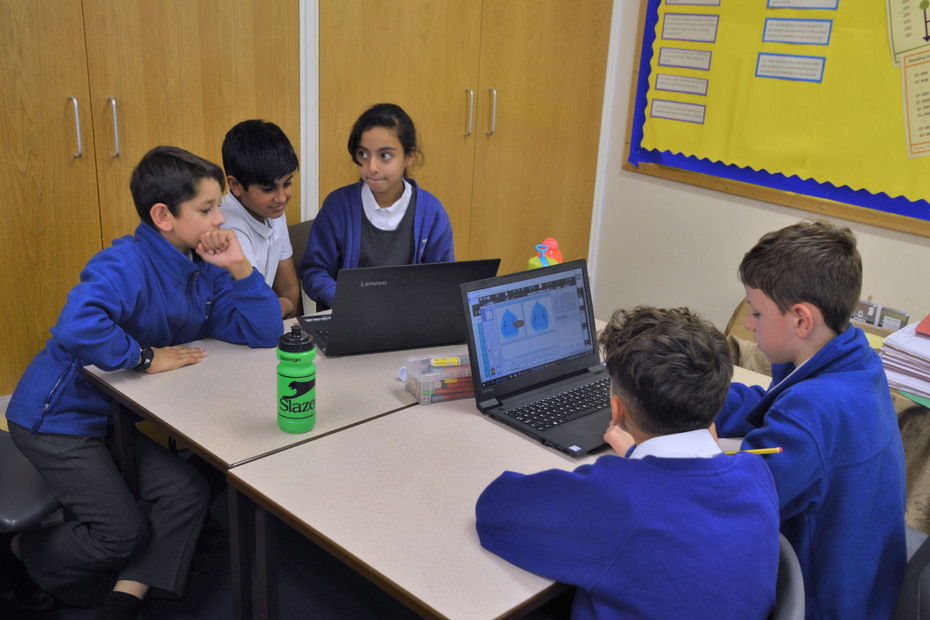 Below - Wednesday 20th September - Science: recording results of our latest experiment in preparation for drawing conclusions from our observations of how far balls of differing size, weight & material rolled down a fixed slope;-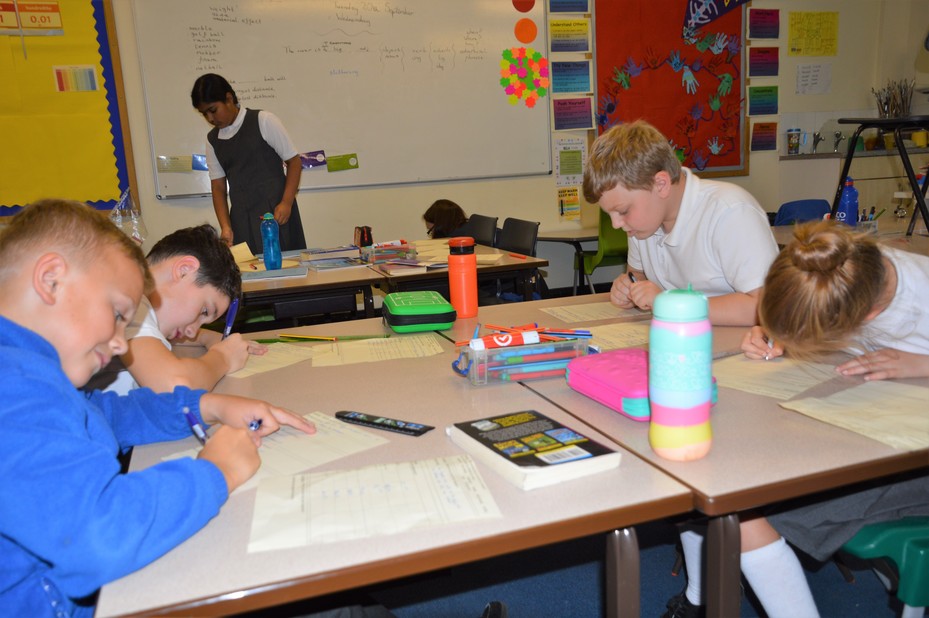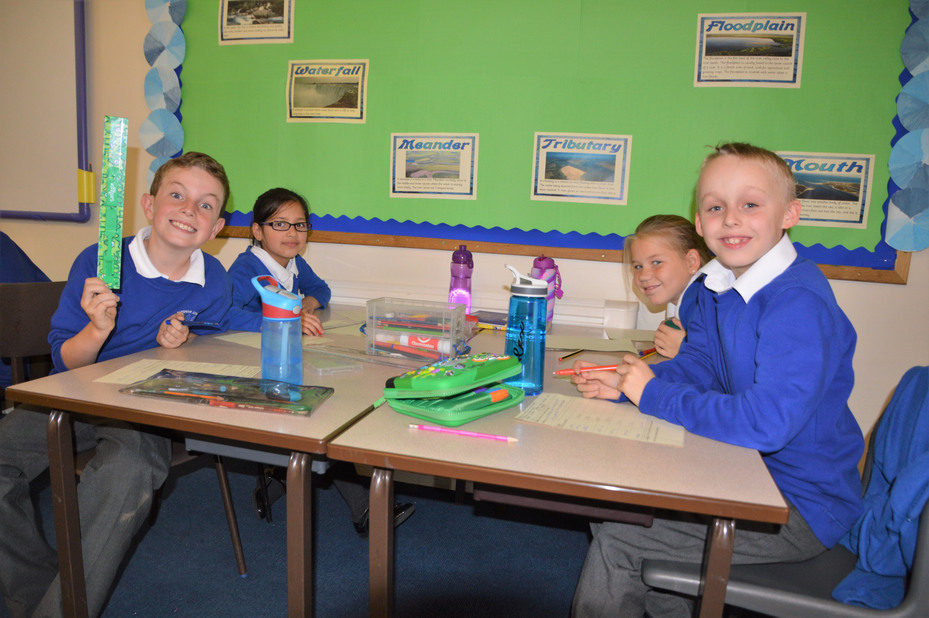 Below - Wednesday 13th September - Science: excellent, co-operative small group work investigating a variety of materials to determine which surfaces would cause a marble rolled down a slope to travel the shortest & longest distances - involved making predictions, observations, measuring, recording & drawing conclusions from results;-