Little Red Riding Hood Writing Project
Little Red Riding Hood Writing Project
2 October 2023 (by admin)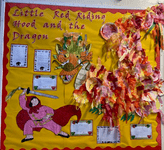 Our writing project has sadly come to an end! Pupils and staff alike have had a fantastic time exploring ten different versions of this traditional tale!
Many thanks to all the parents who dressed up their child for our special day last Friday. There was a real buzz in school about the project and the children got to see the amazing work produced by their peers.
The staff have worked so hard in planning exciting activities for their classes, ranging from artwork and wanted posters to comic strips and poetry!
Well done to all our prize winners, we hope that you enjoyed your chocolate treat!